ACRE awarded US Army Phase II SBIR
2023-09-28 by IDI-Systems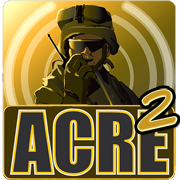 IDI-Systems has been awarded a Phase II Small Business Innovation Research (SBIR) grant for the Advanced Combat Radio Environment (ACRE). The 24-month contract from the US Army's SBIR office and Ground Vehicle Systems Center in Detroit, MI will support maturing ACRE's radio and communications modeling software and its in-depth integration with Unreal Engine as a platform for real-time simulations.
ACRE is IDI-Systems open-source radio propagation and communications systems modeling software designed for real-time use in training, simulation, and other serious gaming environments. Numerous government, military, and other organizations have used ACRE to organize, train, and evaluate operations, military personnel, and combat systems.
Since the Phase I award in 2021 ACRE's Unreal plugin has been used in multiple experiments at GVSC for evaluating next-generation combat capabilities for future vehicle systems.
With the funding under the Phase II grant, IDI-Systems will further integrate ACRE into Epic Game's Unreal Engine and allow users to evaluate digital radio networks, MIMO, SATCOM, and electronic warfare components and how they perform under simulated real world conditions.
IDI-Systems is an engineering research and development company focused on RF communications, software engineering, IT solutions, space/aerospace, and defense. Headquartered in Seattle, WA, its goal is to bring the best engineering talent worldwide to solve complex problems and develop innovative solutions for its customers.
The US Army's Ground Vehicle Systems Center, part of US Army DEVCOM, uses modeling and simulation software to evaluate future vehicle combat systems during procurement. They have previously used earlier versions of ACRE during their experiments.